New Patients at O'Kane Chiropractic
Preparing for Your First Appointment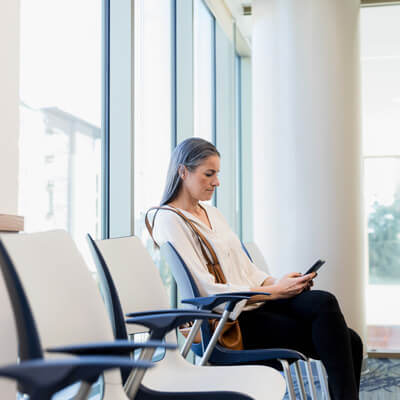 It's best to come in loose, comfortable clothing, but you're welcome in our office no matter what. Plan on arriving 20-30 minutes early to fill out some intake forms.
NEW PATIENT FORM »

Your First Appointment
When you first walk in, our friendly staff will set you up with some paperwork to fill out to help us understand your needs. Once the chiropractor has had a chance to review your information, we'll sit down with you one-on-one to ask a few more questions and clarify not just where you've been feeling pain, but also how it's been limiting your lifestyle and what you'd like to achieve again.
Dr. Brett or Dr. Samantha
will then proceed with a detailed physical examination to better understand what's causing pain. In most cases, we'll also take an X-ray to look at structural issues and make an accurate diagnosis.
We'll generally take some time to review your results before providing an adjustment at your second appointment. Let us know if you're in a lot of pain or want to start care at this first visit. We may also start with some therapies to ease the pain. Set aside one to two hours for the initial consultation.
Your Second Appointment
At this next visit, the chiropractor will go over your report of findings, so you understand where the pain is coming from, what your condition looks like, and how this type of problem typically responds to care. We'll make sure you understand what to expect as far as the average number of visits, which therapies we recommend, and what you can do on your own to improve. We start providing care at this second visit.
Providing Financial Clarity
Our front desk staff will go over finances with you over the phone before your first appointment. Our fees are reasonable, and we take extended payment plans like CareCredit. We accept insurance, Medicare, HSAs, and all major credit cards.
Get Started Today
Our care is professional, fun, and effective. Book now.
CONTACT US
---
New Patients at O'Kane Chiropractic | (276) 466-2273